You've seen the extreme workouts and diets. The quick fixes. Heck, maybe you've tried them? (Goodness knows we have in the past!)
The thing is – even when you see the results from these programs, it's really hard not to gain the weight back after.
Why?
Because LIFE happens.
So why not find a plan that is DOABLE for your WHOLE life?
Enter in 75 Soft
We KNOW it's NOT committing to crazy long workouts, no carbs, and no alcohol forever.
If you've ever felt the:
SHAME and GUILT of "breaking the rules" or having "something bad" on your diet,
like you COULDN'T SUCCEED in losing weight,
ANXIETY of trying to be present in life (birthdays, vacations, etc) while still tracking your food,
PRESSURE to not fail or quit this time,
This plan is for you!
Disclaimer: Always consult your doctor before starting any new exercise or changing your diet. The 75 Soft is not medical advice.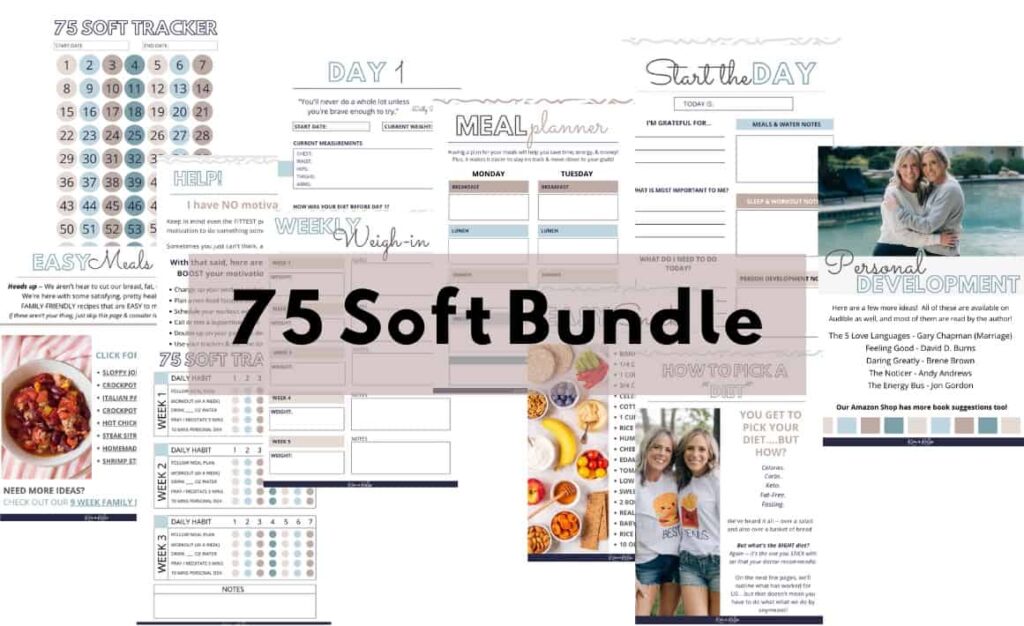 You can seriously have a TRANSFORMATION without depriving yourself!
Check out our podcast discussion on the 75 Soft Challenge (Formerly called 57Doable).
You should consult your physician or other health care professional before starting this or any other fitness or nutrition program to determine if it is right for your needs.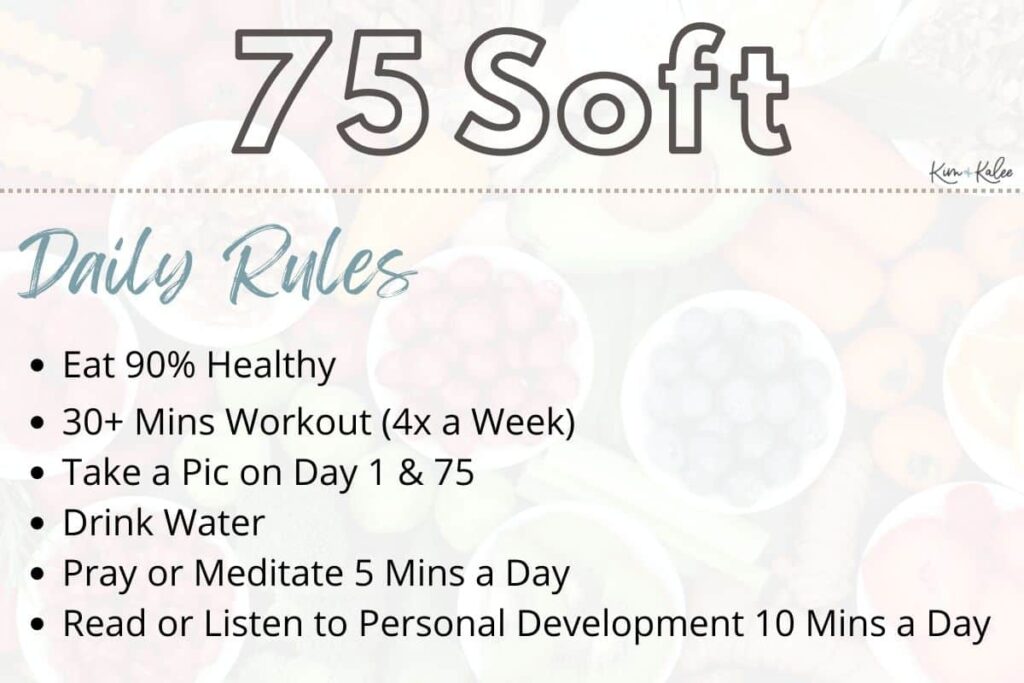 What is 75 Soft?
75 Soft is a realistic approach for your life. It includes a flexible meal plan to fuel your body, workouts to make you feel amazing, and the mental fortitude to be present in the moment and find reliance even in life's challenges.
The 75 Soft Challenge Rules
The 75 Soft rules are just there to help facilitate you in having a plan — not as a pass or fail challenge.
Be mindful of your food choices 90% of the time
Workout 4x a week for 30 minutes.
Take a progress picture day 1 and day 75.
Drink half your body weight in ounces of water per day.
Meditate 5+ minutes a day
Read or listen to 10 minutes of personal development or inspiration a day
While our goal is to accomplish each of these tasks each week, remember this is a process.
There is no "perfection or start-over" mentality in this program.
This is about empowering you to see the amazing person your kids and best friends already see.
This is about waking you up from the load of crap (insecurities, limiting beliefs, doubt, fear, etc) you've been carrying around.
Want to start your 75 Days with us?
We'd love to have you! We'll email you with tips, tools, and access to the #75soft community if you'll drop your name and email below!

You should consult your physician or other health care professional before starting this or any other fitness or nutrition program to determine if it is right for your needs.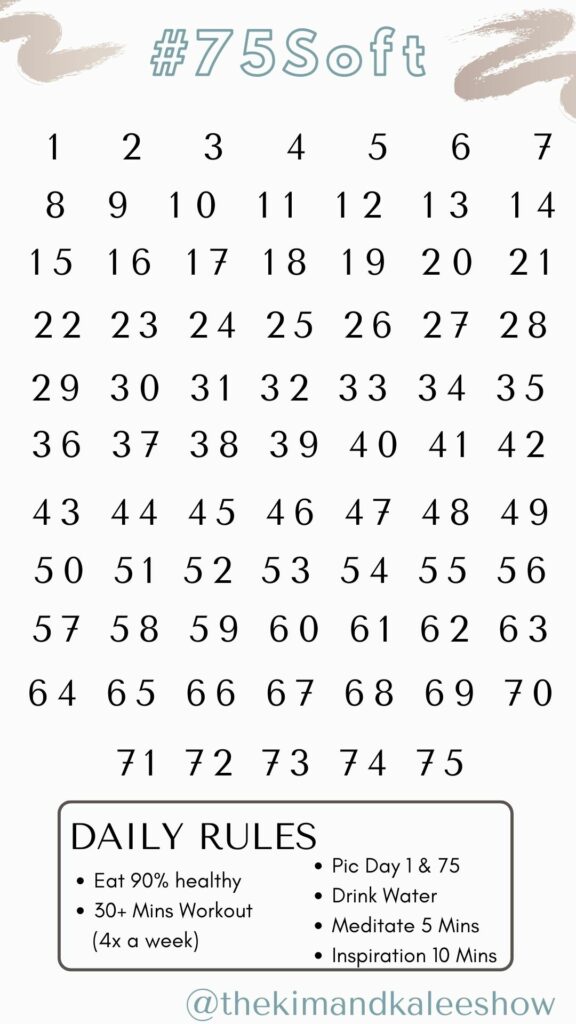 How to Take Back Your Power Towards Food & Exercise
There's nothing like starting fresh on Monday with your meals prepped and workout calendar ready to go. You feel like this is the time. This is the diet/workout/supplement that is going to change it all.
No more low energy.
No more mindlessly scrolling on your phone.
No more going through the drive-thru after a long day at work or before the kids' practices.
You're on track come Thursday, but then your spouse brings home cupcakes. Your co-worker has a birthday. Your girlfriends invite you out for a drink. Your son or daughter got straight A's and wants to celebrate by splitting a sundae from y'all's favorite ice cream spot.
You go with it — whether out of guilt, worry of others judging you & your diet, or just because crap – you just want a cupcake.
Then, the weekend rolls around, and you're faced with all new types of temptations. A family get-together, a church social, an important dinner meeting with your spouse and his boss. Whatever.
You starve all day to plan your calories, macros, fasting window, (enter the diet of your choosing) for that meal. Then you do something MAGICAL….you've never eaten THAT MUCH FOOD ever in your life, but dang! You eat it all, and feel miserable after — physically and mentally.
You recommit that Monday will be different….but since Saturday was funky, why not just snack on whatever all day Sunday.
After all, you're recommitting tomorrow.
Let's Stop This Pattern!
The 75 Soft is not only a workout challenge. It's a full body, mind, and routine challenge!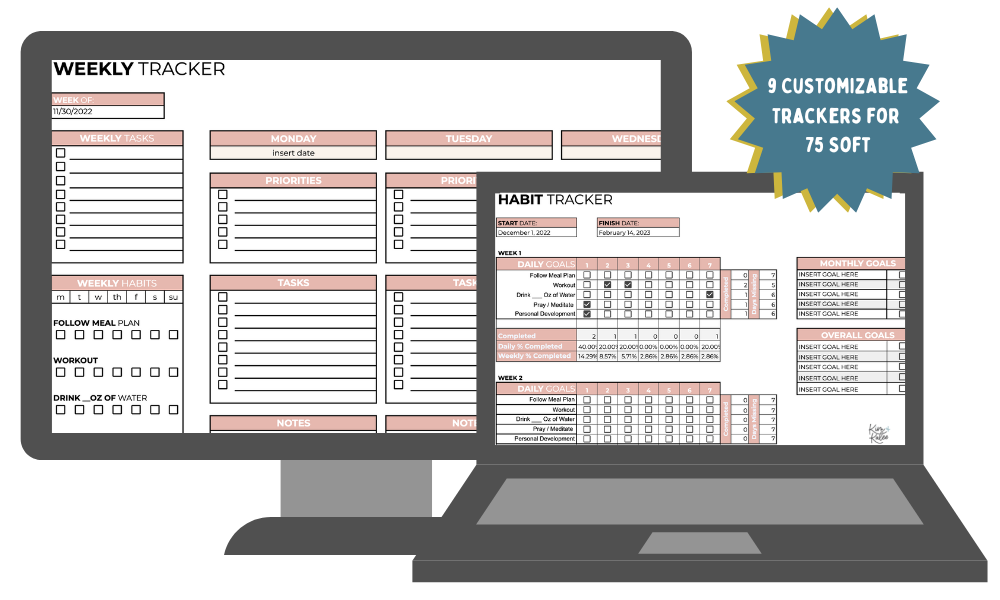 75 Soft Resources
Looking for an all-in-one package? Check out our 75 Soft Book!
This e-book includes printable free trackers, workout plans, diet plan ideas, meal planners, and much more! Get 50% off with code READER.
Diet Plan Ideas
You can also grab our favorite 75 Soft diet plan ideas on our Amazon Shop! We love all things Joy Bauer for this challenge!
Workout Plan
Favorite Books
We have a list of several books by Henry Cloud, Andy Andrews, Brene Brown, and more! Check out the list of Personal Development books here!
You may also like our Morning Routine System to Maximize Your Time (Without Stressing!).

Who we are
If you don't know us, we're Kim and Kalee. We're a crazy-alike mother-daughter duo from Nashville. Before starting an online business together in 2011, we were both high school math teachers.
Since 2011, we've been working on ourselves – physically, mentally, and emotionally.
We've learned that anything worth having is going to take work.
After all, if it was EASY, everyone would do it!
We've learned that success in ANY area takes realistic goals, self-care, daily support from a likeminded community, and time.
Now we're putting everything we've learned into a FREE 75 day plan.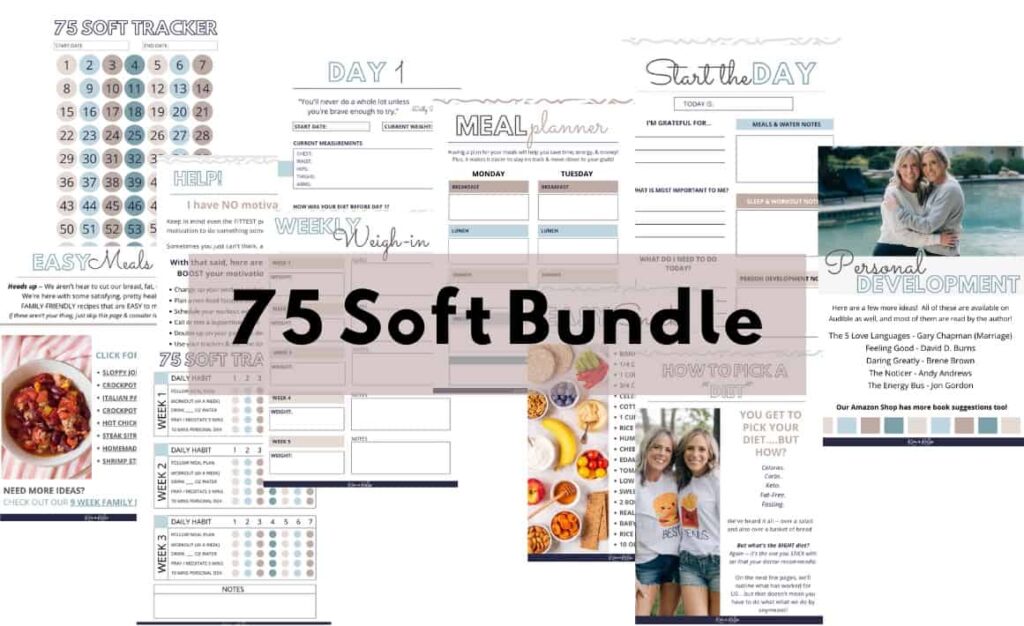 The 75 Soft Bundle
We put together an ebook that includes 50 PAGES of helpful ideas including: weekly & daily trackers, meal planners, personal development ideas, how to pick a workout you ENJOY, and EASY recipes that you AND your family will love!
This is NOT a quick fix….if you're looking to run yourself ragged to lose 25lbs in 25 days — look elsewhere.
This is also NOT a place to judge. We are working on being better. So no judging others in the group, and most importantly – no judging yourself!