The 75 Soft is a realistic approach to your health and fitness goals — without self-shaming or deprivation! Below, you'll find our 75 Soft Printable Calendar and worksheet template that are available for instant download!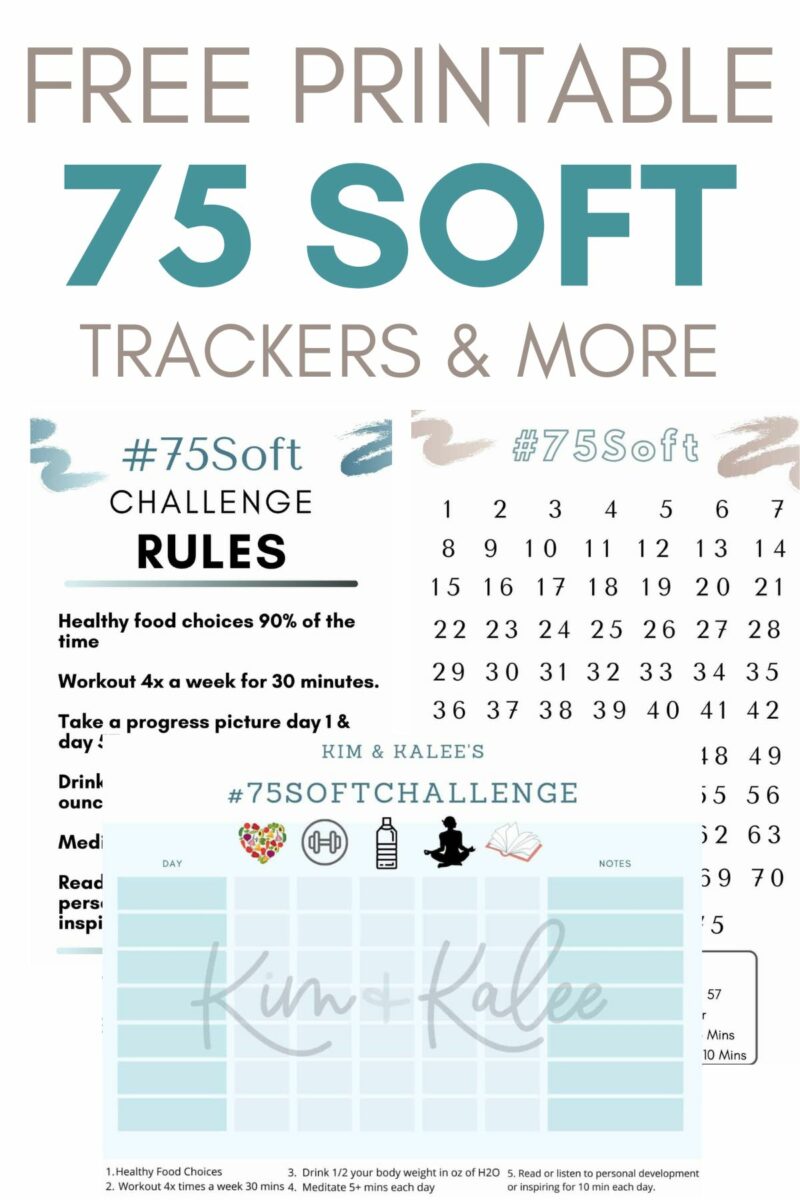 We developed the 75 Soft Rules, calendar, and worksheets after seeing some of the extreme and potentially dangerous things people were doing to lose weight.
What if we just moved a little more, cleaned up our diet, and took some time to work on our mindset?
Could we still see amazing results?
After the past year of testing, we can say — YES.
You can get GREAT results without extreme dieting or workouts.
So here's the simple set of rules….
75 Soft Rules
Be mindful of your food choices 90% of the time
Workout 4x a week for 30 minutes.
Take progress photos on day 1 and day 75.
Drink half your body weight in ounces of water per day.
Meditate 5+ minutes a day
Read or listen to 10 minutes of nonfiction, personal development, or inspiration a day
75 Soft Printable Calendar, Worksheet & Template
This 75 Soft Printable Calendar will help you track how far into the challenge you are each day.
You can also save it to your iPhone and use the "mark-up" feature daily to mark your progress.
We also have a 75 Soft Daily Checklist you could use as well.
75 Soft Challenge Daily Checklist
Above is our 75 Soft Challenge Daily Checklist.
You can use this free printable to track your progress of these daily tasks.
Need help choosing a meal plan or workout?
Meals
We have several cookbooks on our Amazon Shop that we've tried and loved.
You may also like our SIMPLE Meal Plan for You & Your Family
Looking for a free meal plan? Sign up for our emails to get a FREE 80/20 Meal Plan!
Workouts
We love to stream our workouts at home. Our favorite home workout for 75 Soft is LIIFT More.
You can also choose from 1000s of on demand workouts on BODi or do a workout you already love!
What if I miss a day?
If you miss a day or don't mark off all 5 tasks for the day, don't panic or start over. Just keep going!
If you can – mark off what you can for the day, and then aim for 100% tomorrow.
Life is going to happen.
Please don't let a single day turn into a full on slide or an ultimatum.
What's allowed and what isn't?
This challenge is designed to help you establish new healthy habits and break bad habits.
So while it's more flexible that the traditional "mental toughness challenge" — you do have to stick to those new (sustainable) habits.
We recommend not "saving up" for cheat meals. Instead, focus on enjoying the fun and special moments during a social occasion. If that includes enjoying a cocktail or favorite food in moderation — go for it!
When it comes to your workouts, you can choose any exercise program. We just recommend you give yourself 2 or 3 rest days a week.
A daily habit tracker can help you stick to the program long term.
What is the goal of the 75 Soft?
The goal of the 75 Soft is to create healthy eating, exercise, and mindfulness habits so that you look and feel your best!
We hope you'll keep these better habits for your entire life because they fit into your routine.
What are the benefits of the 75 Soft Challenge?
The benefit of the 75 Soft Challenge is to feel empowered to where you are and apply simple, realistic items everyday.
Participants have also seen benefits including less stress, weight loss, improved confidence, better sleep, increased ability to focus, and overall better health.
Finding a community of likeminded people is an additional benefit when you join the 75 Soft with Kim and Kalee Facebook group.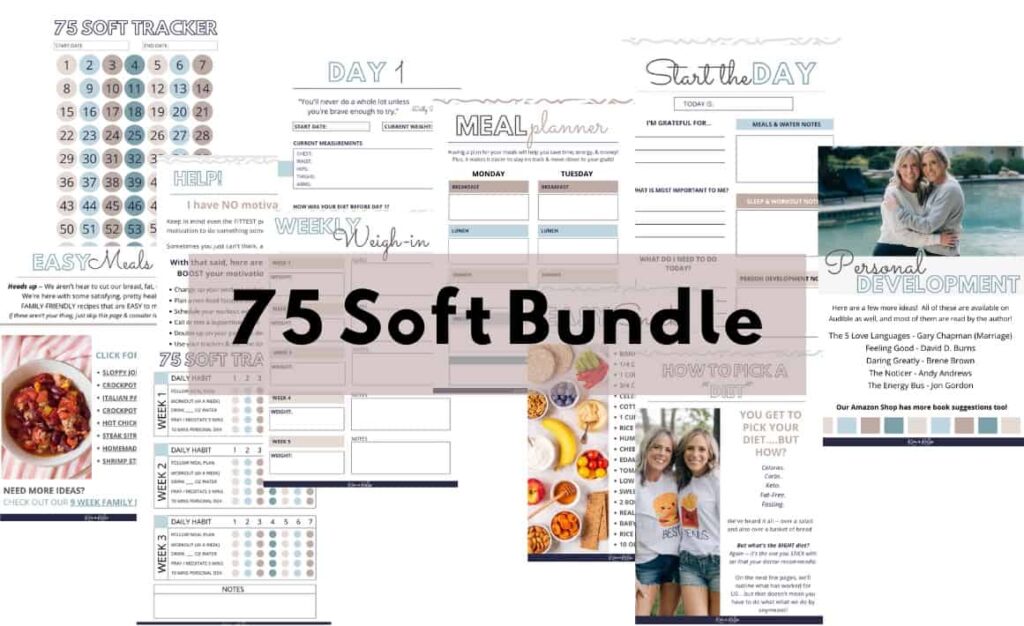 More 75 Soft Printables & Digital Trackers
If you're looking for additional 75 Soft Printables, worksheets, or templates, you may like our 75 Soft eBook or Digital Challenge Trackers!
The eBook includes printable weekly & daily trackers, calendars, and meal planners.
It also includes personal development ideas, how to pick a workout you ENJOY, and EASY recipes that you AND your family will love!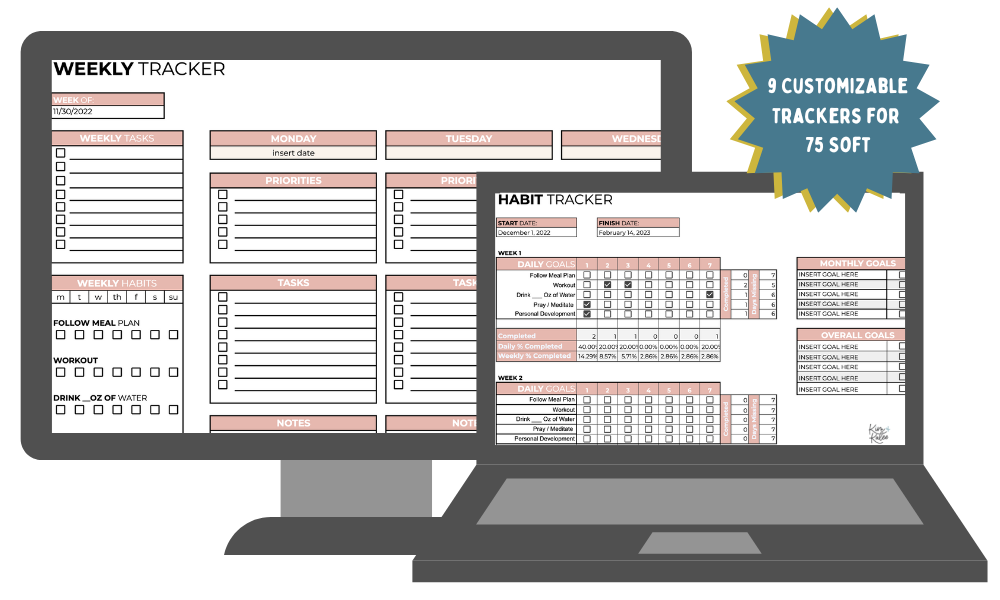 We also created 9 additional trackers specifically for the 75 Soft Challenge.
These could be printed as well, but they are designed to be easily updated on your computer or phone through Google sheets.
The 75 Soft Digital Trackers include a habit tracker, to do list, body measurement tracker, meal planner, personal development guide, workout planner, goal progression system, and gratitude list.
*All of these products are digital downloads and allow you to access everything immediately without any shipping fees.
Want both the ebook and trackers?
If you wanted both the eBook and trackers, you can grab 50% off the eBook when you add it on to your spreadsheet order. Shop here!